Saint Patrick's Day
March/17/2023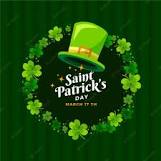 Saint Patrick's Day, while not a legal holiday in the United States, is nonetheless widely recognised and observed throughout the country as a celebration of Irish and Irish-American culture. Celebrations include prominent displays of the colour green, religious observances, numerous parades, and copious consumption of alcohol.
The holiday has been celebrated in what is now the U.S since 1600, with the first parade occurring in 1601.
It is customary for the Irish
Taoiseach
(Irish Prime Minister) to meet with the
President of the United States
on or around Saint Patrick's Day. Traditionally the Taoiseach presents the US President a
Waterford Crystal
bowl filled with shamrocks. This tradition began in 1952 when the Irish Ambassador to the US,
John Hearne
, sent a box of shamrocks to President
Harry S. Truman
. From then it became a yearly custom for the Irish ambassador to send Saint Patrick's Day shamrocks to an official in the US President's administration, although on some occasions the shamrocks were given personally by the Irish Taoiseach or Irish President to the US President in Washington. After the meeting between Taoiseach
Albert Reynolds
and President
Bill Clinton
in 1994, the presenting of the shamrocks became a yearly custom.