PMWF Police Department Rollout
Sunday/April 19, 2015
We would like to take a minute to thank all the residents that came out to support the Police Rollout and Meet & Greet on Sunday.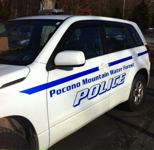 It was a really nice turnout and we hope that all of your questions were answered. If there are any other questions or concerns that you might think of please feel free to contact the office.

We would also like to remind our residents that we are looking for volunteers to support our "Neighborhood Crime Watch" Program.

No matter how much time you could give, it would be a big plus to the community. Even an hour or two a week. And remember that you don't get involved in anything that you might see. All you do is WATCH, REPORT, & DISAPPEAR. You remain completely anonymous. No one will ever know that you are even part of the program. Please call the office at 570-686-2989 or Email us at PMWF@ptd.net if you are interested in helping your community.
We will keep your information completely confidential.